Minestrone (mix) Soup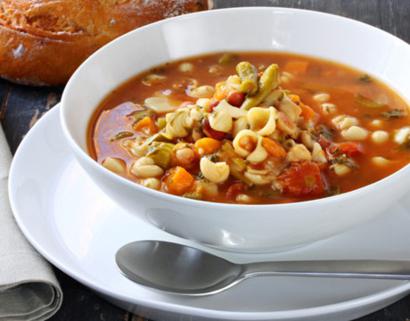 Ingredients
• Tomatoes – 500 gms
• Zucchini – 100 gms
• Cabbage – 100 gms
• French beans – 200 gms
• Chinese moong bean – 100 gms
• Celery – 6 stalks
• Milk – 1 cup
• Corn flour – 1 tsp
• Butter – 1 ½ tsp
• Salt – as required
For Garnishing:
• Boiled spaghetti – 1 cup
• Grate cheese – 2 tbsp
• Boiled beans, peas and cabbage – 1 ½ cup
Preparation
1. Soak lentils in 4 cups water for 5 hours then sieve the water.
2. Pressure cook the lentils, tomatoes and celery stalks for two whistles.
3. Slow down the gas for 10 minutes. Close the gas.
4. Strain the soup through a fine shift.
5. Heat butter on a slow heat; add corn flour mixed with milk and stir.
6. Add lentil soup with boiled noodles and vegetables and let it cook till another 5 minutes.
7. Remove from the gas and add salt, pepper and lemon juice.
8. Serve warm.
Serves
5-6 Persons
By Bhaktin Archana