Minestrone Soup-2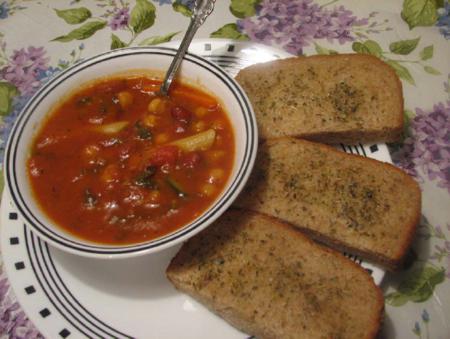 Ingredients
•1 Tbsp olive oil
•½ Tsp yellow asafetida powder
•¾ Tsp Italian seasoning
•1 stalk of celery, diced
•2 zucchinis, sliced
•1 carrots, sliced
•1 big potato, peeled and diced into 1.5 cm cubes
•1 Bell pepper (capsicum), diced into 1.5 cm cubes
•2 C tomato puree
•2 Tbsp chopped fresh parsley
•1 C cooked chickpeas
•1 C cooked red kidney beans
•6 C water
•1½ Tsp salt
•¼ Tsp ground black pepper
•¼ Tsp red chili flakes
•¾ C uncooked pasta (any shape of your choice)
Preparation
1.
Heat oil in a saucepan over moderate heat, sprinkle asafetida powder, Italian seasoning and add the celery. Saute for 30 seconds. Add all the vegetables, stir fry for a while.
2.
Pour the tomato puree and add the parsley. Add the chickpeas, kidney beans, water, salt, pepper and chili flakes. Cook covered partially over very low heat for 1½ hours. (this soup tastes best when cooked slowly)
3.
Add the uncooked pasta and raise the heat to medium and cook until the pasta is tender. Reduce the heat again to very low and cook for another 8-10 minutes. Serve hot with toasted butter smeared slices of bread seasoned with dried oregano leaves.
Serves
6-8
By Anand Lila Devi Dasi