Mung Bean Soup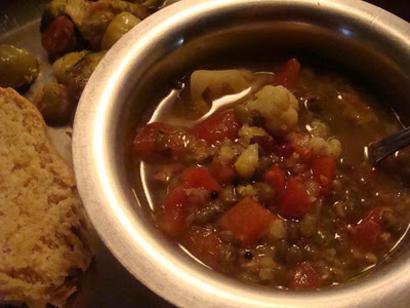 Ingredients
• Mung beans, whole – 1 cup
• Roma tomatoes – 3
• Ghee – 4 – 5 tbsp
• Mustard seeds – 1 tsp
• Fresh ginger, grated – 2 tbsp
• Hing – 1/4 tsp
• Black pepper, ground – 1/4  tsp
• Urad dahl, split –  1/2 tsp
• Fenugreek seeds – 1/2 tsp
• Turmeric – 1/2 tsp
• Salt
Preparation
1. Soak the beans in water a couple hours. Bring to a boil and let simmer until dahl splits and softens.
2. Add tomatoes and continue to simmer until cooked.
3. Chaunce in hot ghee the mustard seeds. When they almost stop popping, add the ginger and urd and stir until the ginger is brown and crispy. Add the remaining ingredients and pour into the mung soup.
4. Stir in salt as desired.
5. Serve hot to Krishna with rice, subji and so or favorite bread.
By Bhaktin Priya