Mung Dal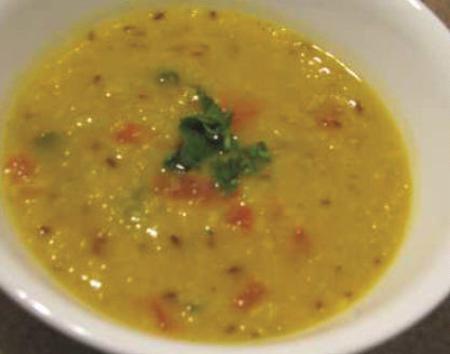 Ingredients
•Yellow mung dal ………………….250 ml
•Ghee or oil………………………….1½ Tbsp
•Water………………………………..1½ liter
•Turmeric powder………………….½ Tsp
•Tomatoes, chopped………………2
•Salt……………………………………1 Tsp
•Sugar…………………………………½ Tsp
•Cumin seeds……………………….1 Tsp
•Yellow asafetida powder……….½ Tsp
•Green chilies, chopped………….2
•Finely grated ginger………………Tbsp
•Fresh curry leaves………………..8-9
•Garam masala……………………..1 Tsp
•Fresh coriander leaves…………..2 Tbsp

Preparation
1.Wash, and drain the mung dal.
2.Heat ½ Tbsp of ghee or oil in a saucepan over moderate heat, add the drained
dal, and roast it stirring frequently for 3-4 minutes or until it lightly changes in
color. Add water and turmeric. Bring to a boil over high heat. Reduce heat to
moderately low, cover and cook until the dal becomes soft and mushy.
3.Add the chopped tomatoes, salt and sugar.
4.Heat the remaining ghee or oil over moderate heat in a small pan; add cumin
seeds, when they darken a few shades, add asafetida, sauté momentarily. Add
chilies, ginger and curry leaves. Sauté for 1 minute. Add the garam masala and
quickly pour the seasonings into the simmering dal. Cover the dal and cook on
low heat for 2 more minutes.
5.Serve hot garnished with fresh coriander leaves.

Serves
4-5
By Anand Lila Devi Dasi