Narsimha Apple Cinnamon Cake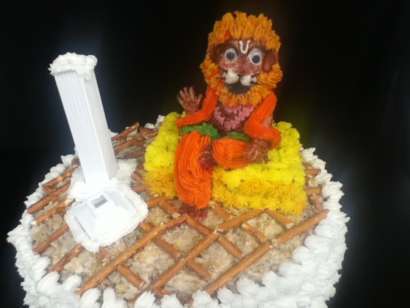 Ingredients
1. All purpose flour(Maida) – 2 cups
2. Salt – a pinch
3. Baking powder – 2 tsp
4. Baking soda – 2 tsp
5. Butter, melted – 1/2 cup
6. Powdered sugar – 3/4 cup
7. powdered cinnamon – 1 ½ tsp
8. Cardamom powder – 1 tsp
9. Vanilla essence – 1 tsp
10. Milk/apple juice – half cup
11. Apple – 2, peeled and grated
Method
1. Sieve all purpose flour, salt, baking powder and baking soda
together and keep it aside.
2. Melt butter and beat in the powdered sugar until it becomes soft and fluffy.
3. Now add the cardamom and Cinnamon powder and vanilla essence to it
and beat it until it mixes evenly.
4. Add milk and beat it till it is soft and creamy.
5. Peel the skin of the apple and grate it.
6. Add the grated apple to the batter and beat it for just a min.
7. Now add the flour mixture and mix until it gets incorporated and
forms a thick batter.
8. Preheat the oven to 180°C.
9. Line a cake tin with parchment paper and grease it. Pour in the
batter into the mould and bake in 180°C for 50-60 mins. Test with a
warm knife, it should come out clean.
10. Remove from oven and allow the cake to cool on wire rack for a while.
11. Cut the cake in half and ice with ¼ cup grated apples mixed with 1
cup butter cream icing.
12. Decorate the sides with plain white icing with tube number 2010.
(has 3 holes in it), add the pillar and the statue.
13. Serve to Lord Narsimha and partake the mercy!
Narsimha body , pillar and throne.
1. The throne was made by joining 16 glucose biscuits with cream. ( The back of the throne can be made from graham cracker biscuits cut in semi circle)
2. Narsimhadevs body was made with a combination of Fondant and Gum paste and then painted with edible brown colour. The hands and legs were joined to the body with the help of toothpicks and dowels. The nails were painted with edible red colour.
3. The dhoti , dupatta , facial hair was made with butter icing using tube number 21. False eyes were stuck. The whiskers were made from coloured toothpicks.
4. Plastic pillars were used. ( pillars can be made from gumpaste/fondant too ) The Floor was made with ¼ cup grated apples mixed with 1 cup butter cream icing and thin pretzels.
By Bhaktin Meena