Oat Paratha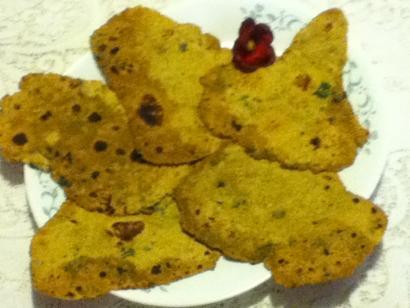 Ingredients
• Wheat atta –  1 cup
• Oats(Use any brand of Oats) – 1 and 1/2 cup (Powdered)
• Coriander powder – 1/4 Teaspoon
• Cumin powder – 1/2 Teaspoon
• Ajwain  – 1/2 Teaspoon (powdered)
• Chilli powder – 2/3 Teaspoon
• Coriander leaves chopped coarsely- 3 tbsp
• Turmeric powder- ½ tsp.
• Cooking oil –  4-5 Teaspoon( hot will make the paratha softer)
• Salt – To taste
• Water – To make the dough( or milk also can be added to make it softer and tastier)
Preparation
1. Mix all the powdered oats and wheat.
2. Add the dry powders like coriander, cumin, ajwain, chillie powder, turmeric powder and salt. Mix well.
3. Add the chopped coriander leaves, cooking oil and knead with water or milk as desired into a little  softer than the chapati dough.
4. Divide into10-12 balls and roll in a round shape.
5. Dust the pinched out ball in atta and roll it into 4-5″ sized disc and apply oil to it.
6. Fold it into semi circle and also apply oil again.
7. Fold it into triangular shape and keep it aside.  Repeat the same process for all the rotis. This process of folding and greasing helps to make layers. Roll it to required thickness and ensure that you are rolling evenly all over the roti.
8. Place a non stick roti pan with a little oil being sprinkled on it on medium flame. Place rolled roti and sprinkle a little oil on it.
9. When done, just flip it and roast it again applying a little oil. Press slightly on all the sides with a spatula.
10. Enjoy hot with either tomato sauce or the dry chutney powder and Amul butter.  It tastes great and the layers of the roti will be like that of veg- puff. One can even enjoy with any side dish of one's choice.
Serves
12 Parathas
By Bhaktin Meena