Oatmeal and Banana Cookie Cheesecake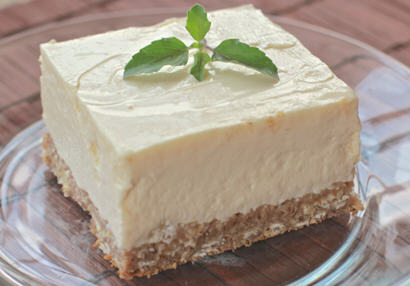 Description
Cheesecake and cookies are a great combination! Try this healthier version of cheesecake next time you want to make a fabulous dessert!
Ingredients
Cookie Crust:
. 1 cup ground oats
. 1/2 cup whole oats
. 2 bananas
. 1/2 cup yogurt
. 2 tsp cinnamon
. 2 tsp ghee
. 1/2 tsp baking soda
. 1/4 tsp salt
Cheesecake:
. 3 cups thick yogurt cheese
. 1 1/2 tbsp cornstarch
. 1 1/3 cup sugar
. 1/4 tsp salt
Method
1. For the cookie recipe: Place all ingredients into a mixing bowl and mash all together with a fork until fully combined.
2. Oil the baking dish with ghee and press the cookie dough into the bottom of the dish. Bake at 200C/390F for 15 minutes.
3. In the meantime, while the cookie is cooking, prepare the cheesecake by combining all the ingredients into a mixing bowl.
4. Use a hand blender to mix.
5. Mix until nice and creamy with no lumps.
6. The cookie should be done by now. Take it out of the oven.
7. Immediately pour the cheesecake mixture on top of the cookie.
8. This is what it should look like before going into the oven a second time. Now bake for another 10-15 minutes.
9. Let the cheesecake cool in the fridge for at least 5 hours before serving.
10. Now you are ready to Serve!
By Bhaktin Christina