Oatmeal Banana Pancakes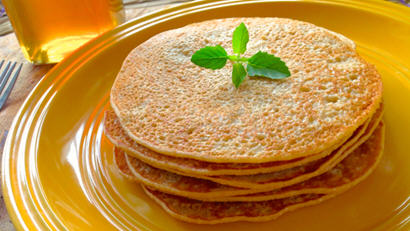 Description
This has to be the easiest pancake recipe ever! It is super delicious and healthy too!
Ingredients
. 2 cups rolled oats
. 2 cups milk
. 1 banana
. 1/2 cup cane sugar
. 1/4 tsp salt
. 1 tbsp butter
Preparation
1. Add all the above ingredients into a blender.
2. Blend until smooth.
3. Let the batter stand for a few minutes until it thickens. That is it for the pancake batter!!
4. Next heat a non-stick pan on medium low heat. The temperature is very important. If your first pancake burns a little make sure to turn down the heat. Ladle on the pan about 1/4 to 1/2 cup batter per pancake.
5. Cook the pancake for around two or three minutes on each side. You will be able to tell when the first side is cooked when you see many holes forming and the edges start to dry.
6. Then flip to the other side. Continue cooking the rest of the batter and you are done.
7. This recipe also makes a great waffle batter too. Serve with your favorite toppings and you are ready to offer to Krishna with love and devotion!
Serves: 2
By Bhaktin Christina
Source : http://www.krsnastreats.org/recipes/sweets/item/oatmeal-banana-pancakes