Oondi (Rice Balls)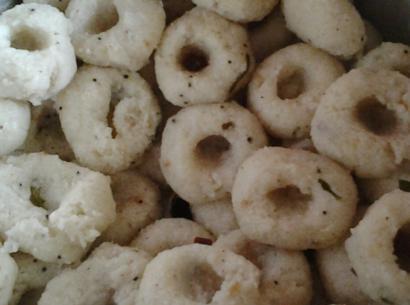 Ingredients
• Idli rice rawa  – 2 cups
• Grated coconut – 1 cup
• Oil – 1 tbsp
• Mustard seeds – 1 tsp
• Urad dal – 1 tsp
• Green chilli  – 2 chopped
• Red chilli – 2 chopped
• Curry leaves – 4 to 5 chopped
• Salt to taste
Preparation
1. Wash rice rawa. Drain water n keep aside.
2. Grind grated coconut with 1 cup water coarsely.
3. Heat oil in a heavy bottom pan.
4. Add mustard, urad dal, green chilli, red chilli, curry leaves.
5. When mustard splutter, add ground grated coconut, n washed rice rawa n 1 1/2 cup water n salt.
6. Keep stirring till it becomes a lump n leaves the sides of the vessel. Remove from fire. Let it cool fr sometime.
7.  Now make balls n make a depression with yr finger.
8. Steam these balls in a steamer fr 15 min.
Makes 15 to 20 rice balls
By Bhaktin Rekha Bhat