Pan Fried Okra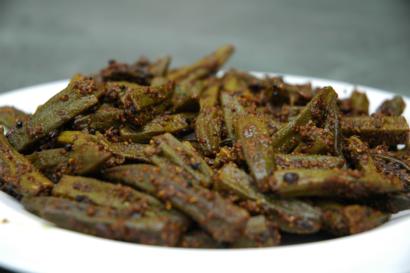 Ingredients
•Fresh okra, heads and tip trimmed off…………………………900 gm
•Chickpea flour(besan)……………………………………………..3Tbsp
•Red chili powder……………………………………………………..¼ Tsp
•Turmeric powder……………………………………………………..¾ Tsp
•Salt………………………………………………………………………..1½Tsp
•Yellow asafetida powder…………………………………………..½ Tsp
•Thick yogurt…………………………………………………………….3 Tbsp
•Ghee/oil for pan frying
Preparation
1.Wash the okra and dry thoroughly.
2.Whisk the rest of the ingredients except the ghee/oil in a small bowl until smooth and combine well with the okra.
3.Heat oil in a pan over moderate heat. Add the okra in a single layer and cook until they turn golden brown and crispy, turning often when required. Drain on paper towels.Serve hot.
Serves
5-6
By Anand Lila Devi Dasi