Paneer Butter Masala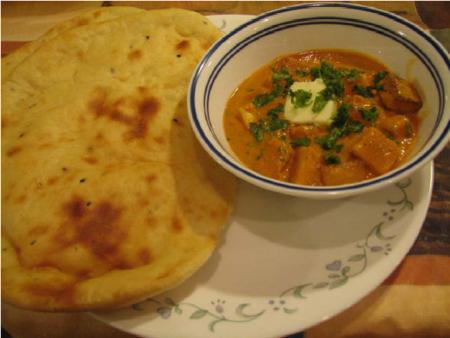 Ingredients
•500 gms paneer, cut into ½ -in cubes
•3 Tbsp ghee/oil
•2 C hot water + a pinch salt + ¼ Tsp turmeric powder
•2 inch ginger
•2 green chilies
•½ C cashews soaked in water for 1 hour
•½ C water
•4 Tbsp butter
•2 bay leaves
•4 whole cloves
•½ Tsp yellow asafetida powder
•1½ C tomato puree
•2 Tsp coriander powder
•1 Tsp turmeric powder
•1 Tsp paprika
•1½ Tsp garam masala
•1½ Tsp salt
•1 Tsp crushed kasoori methi (dried fenugreek leaves)
•1 C half and half or cream
•½ C chopped fresh coriander leaves
Preparation
1.Heat the ghee/oil in pan over moderate heat. Sauté the paneer cubes until lightly browned.
2.In a bowl, combine the hot water, salt and turmeric. Add the fried paneer cubes in it and soak for 10 minutes. Drain the paneer on paper towels and keep aside.
3.Blend the soaked cashews, ginger, chili and water until smooth.
4.Melt 2 Tbsp of butter in a saucepan over moderate heat. Add the bay leaves, cloves, asafetida, sauté until aromatic. Add the ginger-cashew paste. Fry for 3-4 minutes. Add the tomato puree, the spice powders and salt. Cook partially covered over low heat until the butter oozes out from the tomato-spice paste.
5.Add the paneer cubes, kasoori methi and cook for 5 minutes. Stir in the half and half or cream. Garnish with the remaining butter and coriander leaves. Serve with naan, paratha, chapatis or rice.
Serves
4-6
By Anand Lila Devi Dasi