Paneer Peas Capsicum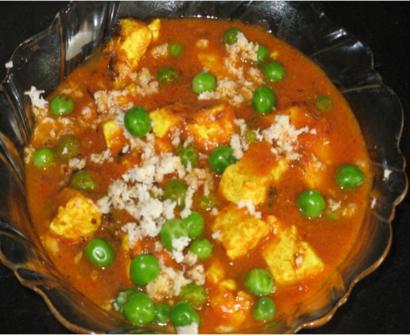 Ingredients
•Paneer………………………………..20gm
•Tomatoes…………………………….15gm
•Capsicum…………………………….10gm
•Green peas………………………….10gm
•Turmeric……………………………….½Tsp
•Ginger…………………………………1 small piece
•Dhania jeera powder…………….½Tsp
•Chilli powder………………………..½Tsp
•Curryleaves……………………………Few
•Whole jeera (Cumin seeds)…….½Tsp
•Asafoetida……………………………A pinch
•Bay leaf……………………………….2 no
•Oil………………………………………1Tsp
For Gravy :
•Coconut………………………..10gm
•Red chillies…………………….2no
For garnishing :
•Finely chopped coriander leaves
Preparation
For gravy:
1.Heat a pan. Add the redchillies.
2.Add the grated coconut.
3.Cook for some time, allow it tocool.
4.Grind this mixture finely to make apaste.
For vegetable:
1.Heat oil in pan, add cumin seeds toit.
2.Add bay leaves, ginger and tomato puree.
3.Now add the gravy mixture and allow to cook for some time.
4.Add capsicum, green peas.
5.Add dhania jeera powder and red chilli powder and mix well.
6.Add paneer pieces and simmer for sometime.
7.Add salt and garnish with finely chopped coriander leaves

By Vaidehi