Papaya, Avocado and Jerusalem Artichoke salad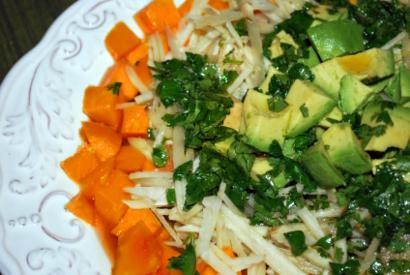 The creaminess of papaya and avocado and crispness of Jerusalem artichokes are pleasantly set off by the sweetish coriander-lime vinaigrette. You may prefer mango instead of papaya, or celeriac instead of Jerusalem artichokes. Also called sun chokes, the peeled Jerusalem artichokes may be blanched before use or left raw, depending on your preference. This light salad goes well on any menu from lunch to late supper.
Preparation time (after assembling ingredients): 15 minutes
Ingredients
• Maple syrup or honey – 3 table spoons (45 ml)
• Lime juice – ¼ cup (60 ml)
• Olive oil or a mixture of two parts almond oil to three parts sunflower oil – 1/3 cup (80 ml)
• Salt – ½ teaspoon (2 ml)
• Yellow mustard powder – ¼ teaspoon (1 ml)
• Freshly ground pepper – ¼ teaspoon (1 ml)
• Chopped fresh coriander – 3 table spoons (45 ml)
• Papaya (about 2 ½ pounds/1.5 kg), Peeled, halved lengthwise, seeded, sliced crosswise into 1/3 –inch (1 cm) slices and sprinkled with lemon juice – 1 medium-sized
• Ripe avocados, peeled, seeded, cut into ½ -inch (1.5 cm) cubes and sprinkled with lemon juice – 2 medium-sized
• Jerusalem artichokes, peeled, cut lengthwise into Julienne and sprinkled with lemon juice – 4
Preparation
1. Combine the sweetener, lime juice, oil, salt, mustard, pepper and coriander in a bowl and whisk until creamy.
2. Arrange the salad decoratively on a platter or individual plates; for example, overlap papaya slices around the edges, mound the avocado in the center and sprinkle the julienne artichokes between the two. Pour on the salad dressing and serve at once.

Serves
4

By Yamuna Devi Dasi