Spiced Green Beans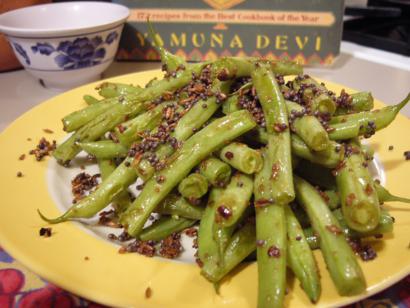 Here is a simple yet delicious way to cook green beans Marawadi style. If you are a gardener, try growing Thompson and Morgan's thin, long asparagus beans; they most resemble the type used in India. Beans are sweet and tender only when harvested immature and full of sugar. They are best cooked within hours after being picked, as are peas. If you are supermarket shopping, try to get locally grown, vividly green beans that break with a snap. Some strains of beans still have strings down the side of the pods, which should be pulled off.
Preparation time (after assembling ingredients): 10 minutes
Cooking time: 15 minutes
Ingredients
• Ghee or a mixture of light oil and unsalted butter – 4 table spoons (60 ml)
• Black mustard seeds – 2 teaspoons (10 ml)
• Cumin seeds – 1 teaspoon (5 ml)
• Crushed dried chilies – ¼ – ½ teaspoon (1-2 ml)
• Green beans, trimmed and cut into ¼-inch (6 mm) pieces – 1 pound (455 g)
• Water – ½ cup (120 ml)
• Ground coriander – 1 teaspoon (5 ml)
• Salt – 1 teaspoons (5 ml)
• Sugar – 1 teaspoon (5 ml)

Preparation
1. Heat the ghee or oil-butter mixture in a large heavy-bottomed frying pan over moderate heat. When it is hot but not smoking, add the mustard seeds, cumin seeds and chilies and fry until the cumin seeds darken and the mustard seeds pop and turn gray. Add the beans and stir-fry for 2-3 minutes. Pour in the water, cover tightly and cook for 10-12 minutes or until the beans are tender-crisp.
2. Uncover, raise the heat and add the remaining ingredients. Raise the heat and boil until the water evaporates and the beans sizzle in the seasoned ghee or oil.

Serves
4 or 5

By Yamuna Devi Dasi