Pickled Carrots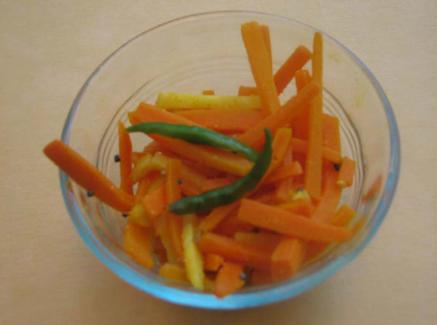 •300 gm carrots, peeled and cut thin 2.5 inch long
•1 inch ginger, peeled and cut julienne style
•2 green chilies cut into thin strips
•¾ Tsp salt
•¼ Tsp turmeric powder
•¼ Tsp red chili powder
•2 Tsp fresh lemon juice
•1 Tsp oil
•¾ Tsp black mustard seeds
•½ Tsp yellow asafetida powder
•½ Tsp fenugreek seeds
1.Boil or steam the carrots until half cooked. Drain.
2.In a mixing bowl, combine the half cooked carrots, ginger, chilies, salt, turmeric, red chili powder and lemon juice. Toss well.
3.Heat the oil in a small pan over moderate heat; add the mustard seeds, when they crackle, add the asafetida, and fenugreek seeds. Quickly remove from heat. Cool the seasoning in the pan for 2 minutes and then add to the carrots.
2 Cups
By Anand Lila Devi Dasi