Pineapple Chopsy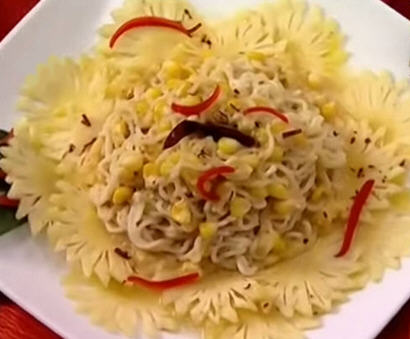 Ingredients
. Chopped Pineapple – 2 Cups
. Jaggery – 2tbsp
. Ghee/Butter – 3tbsp
. Chilly Flakes to taste
. Noodles – 3 Cups (Boiled)
. Corn – 1 Cup
Preparation
1. Heat a non stick pan. Melt ghee/butter in it.
2. Add chopped pineapple, jaggery, chilly flakes.
3. Cook till jaggery perfectly gets melted then keep that aside for 5 minutes.
4. Then grind that and make a nice sauce.
5. Lastly put the pineapple sauce and noodles alternatively making 3 layers of each in a serving plate.
6. Add some corn between each layer for garnishing.
7. Ready to serve.
By Bhaktin Rachana