Poha Chivda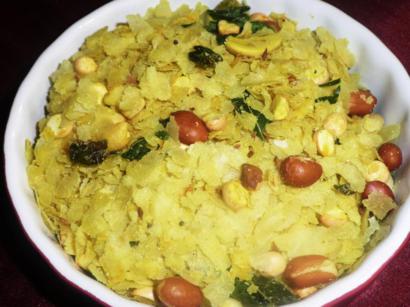 Ingredients
• Oil – 2 tbsp
• Mustard seeds – 1 tbsp
• Cumin seeds – 1 tbsp
• Pinch of asafetida powder
• Turmeric powder – ½ tsp
• Raw peanuts – 2 tbsp
• Dalia – 2 tbsp
• Curry Leaves – 10-15
• Green Chilies – 3 to 4
• Powdered Sugar – 1 tsp
• Cashew nuts – 1 tbsp
• Thin Poha – 3 cups
Preparation
1. Heat 2 tsp of oil in a pan.
2. Add mustard seeds, cumin seeds, curry leaves, green chilies and let them splutter for 2 minutes.
3. Add turmeric powder, asafetida powder, cashew nuts, and peanuts, mix well and stir them for 1 minute.
4. Add Dalia and again cook for 1 minute.
5. Add poha, mix well for 3 minutes stirring after every one minute.
6. Add salt and powdered sugar, mix well.
7. Poha Chivda is ready.
Serves
4 Persons
By Bhaktin Ranjana