Popcorn with Cinnamon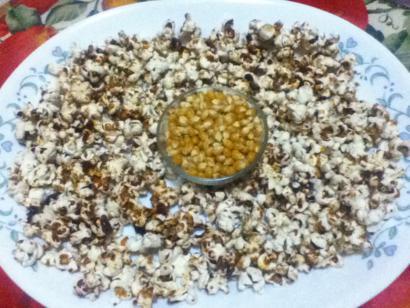 Ingredients
• Popcorn Kernels- 3 tbsp
• Oil- 2 ½ tbsp
• Butter(melted)- 1 tbsp
• White sugar- 2 tbsp
• Ground Cinnamon – ¼ tsp
• Salt- 1/8 tsp
• Vanilla Extract- 1/8 tsp
Preparation
1. In a heavy bottomed deep pan, pour oil. Spread out the kernels so that they are immersed in the oil. Cover the pan with a lid. Put on the gas on full fire.
2. As soon as the popcorn kernels start popping, lower the gas to low heat
3. Once the popping is at its minimum, shake the pan to and fro to allow all kernels to pop evenly. Open the lid a little bit to allow space for the steam to let go. This way the popcorn will be crisper.
4. Put off gas once the popping has stopped.
5. Remove the hot popcorn and keep aside to cool.
6. In the same pan, melt the butter over low heat. Stir in the sugar. Melt the sugar on medium to low heat till it has dissolved and has become very little thick.(so that it is still of dripping consistency to coat the popcorns. Do not overcook, or it will become thick, hard and bitter).
7. Add in cinnamon, salt, vanilla. Stir and put off gas.
8. Pour over the popcorn, and stir until the popcorn is evenly coated. Popcorn will become sticky to touch. Spread the popcorn into a large roasting pan or a cookie sheet.
9. Bake in the preheated oven at 250F (120 C)for 10 minutes, then turn the heat off, and allow the popcorn to stay in the oven 20 minutes longer.
10. Remove from oven, and cool completely. Separate the stuck popcorns manually.
11. Serve to the Lord and distribute the mildly sweet, cinnamon flavoured  popcorn prasad.
Serves
3 – 4 about 5 cups of popcorn.
By Bhaktin Meena/Madhulila