Potato Masala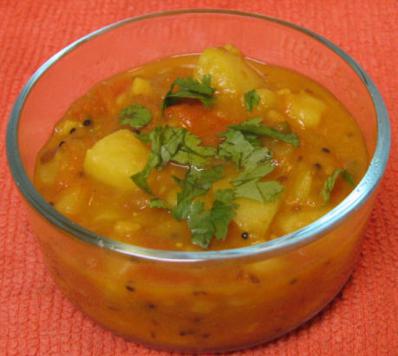 Ingredients
• 3 medium sized potatoes
• 4 C water
• 2 Tbsp ghee/oil
• 1 dry red chili
• ½ Tsp mustard seeds
• ½ Tsp cumin seeds
• 2 Tbsp chana dal
• 1 Tsp split urad dal
• ½ Tsp yellow asafetida powder
• 1 Tbsp minced ginger
• 2 green chilies chopped
• 1 sprig fresh curry leaves
• 3 medium sized tomatoes chopped
• 1 Tsp turmeric powder
• 1½ Tsp salt
• 2 Tbsp chopped fresh coriander leaves
Preparation
1. Peel the potatoes and cut in cubes. Combine the potatoes and water in a saucepan and cook covered over medium heat until the potatoes are cooked but not broken. Drain the potatoes and reserve the liquid.
2. Heat ghee/oil in a saucepan over moderate heat; add chili, mustard seeds and cumin seeds. When the seeds crackle and darken a few shades, add the chana dal and fry until golden. Add urad dal, and fry until golden. Add asafetida, ginger, chilies and curry leaves. Sauté until fragrant. Add tomatoes and turmeric. Add salt. Reduce heat to low and cook uncovered until ghee/oil oozes out from tomato spice paste for about 20 minutes.
3. Add the potatoes and if needed add the reserved water. (Add water according to the desired thickness of gravy). Cover partially and cook over low heat for another 15-20 minutes. Serve garnished with coriander leaves.
** This preparation is often served in South India with puris. You may serve with
puris, chapattis or rice.
Serves
4-5
By Anand Lila Devi Dasi