Rice with Ginger-Seasoned Yogurt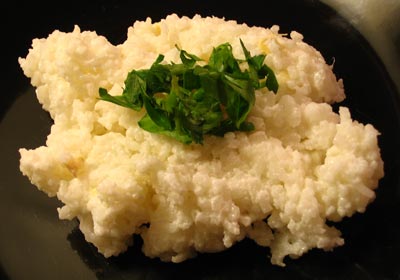 This dish is centuries old and is mentioned in the ancient Vedic texts. It is nutritious and easy to digest. It is served at room temperature or slightly chilled and is good selection on a light summer luncheon menu with any vegetable or salad. It is also good on a dinner menu, because the rice can be cooked and cooled or chilled before hand and finally assembled at the last moment.
Preparation time (after assembling ingredients): 5 minutes
Cooking time: 25- 35 minutes

Preparation
• Basmati or other long-grain white rice – 1 cup (95 g)
• Water – 1 2/3-3 cups (400-480 ml)
• Butter or ghee – 2 table spoons (30 ml)
• Salt – 1 teaspoon (5 ml)
• Plain yogurt, buttermilk or sour cream, at room temperature or chilled – 1 ¼ cups (300 ml)
• Ground ginger or 1 teaspoon (5 ml) scraped, finely shredded or mined fresh ginger root – ¼ teaspoon (1 ml)

Preparation
1. If basmati rice is used, clean, wash, soak and drain as explained on page 4.
2. Bring the water to a boil in a 1 ½ -quart/liter nonstick saucepan. Add the rice, stir, reduce the heat to very low and cover with a tight-fitting lid. Simmer gently with out stirring for 20-25 minutes or until the rice is soft and fluffy and the water is fully absorbed. Remove from the heat5 and let the rice sit, covered, for 5 minutes to allow the fragile grains to firm up.
3. Spoon the cooked rice into a flat dish. Add the butter or ghee and the salt. Mix gently.
4. When the rice has cooled to room temperature or been chilled, and you are ready to serve it, gently fold in the yogurt, buttermilk or sour cream and ginger.

Serves
4

By Yamuna Devi Dasi