Rice with Mixed Vegetables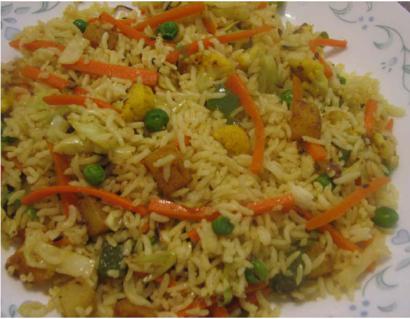 Ingredients
•2 C long grain rice
•4 C water
•4 Tsp ghee/oil
•2 C cabbage cut into thin strips
•1 Tsp turmeric powder
•1 C small cauliflower flowerets
•2 Bay leaf
•3 whole cloves
•3 green cardamom pods, bruised
•½ Tsp yellow asafetida powder
•1½ Tsp cumin seeds
•1 big potato, peeled and diced into 2cm cubes
•1 big green bell pepper (capsicum)
•1 C fresh or frozen green peas
•2 small carrots, peeled and cut julienne style
•1½ Tsp salt
•1 Tsp garam masala
Preparation
1.Combine the rice and water in a saucepan, bring it to a boil, then immediately reduce the heat to low, cover with a tight fitting lid, without stirring, cook it over low flame until the rice is tender. Remove from the heat.
2.After 10 min, cool the rice in a plate.
3.In a pan heat 1 Tsp ghee/oil over moderately high heat; stir fry the cabbage for 1 minute and keep aside.
4.Heat 1½ Tsp of ghee/oil, add ½ Tsp turmeric powder, and quickly add the cauliflower. Stir fry until the flowerets are cooked. Keep aside.
5.Heat the remaining ghee/oil in the same pan; add the bay leaves, cloves, cardamom, asafetida, cumin seeds, and when they darken a little, add the potatoes. Stir fry for five minutes, and then add the bell pepper and sauté until they are tender-crisp. Add the peas, carrots, remaining turmeric, salt and garam masala. Then add the fried cabbage and cauliflower. Toss well.
6.Fold the rice and the spiced vegetables together. Serve piping hot.
Serves
5-7
By Anand Lila Devi Dasi