Sago Moong Nuggets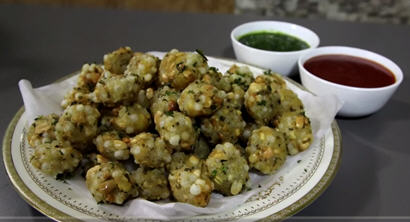 Ingredients
. Soaked Sago – 1/2 Cup
. Soaked Green Mung Dal – 1/2 Cup
. Coriander Leaves – 2-3 tbsp (Finely Chopped)
. Peanuts – 1/2 Cup (Coarsely Grind)
. Coriander Powder – 1 tsp
. Salt – 1 tsp
. Dried Mango Powder – 1/4 tsp
. Red Chili – less than 1/4 tsp
. Black Pepper – 1/4 (Freshly Crushed)
. Green Chili – 1 (Finely Chopped)
. Ginger – 1 inch (paste)
. Boiled Potatoes – 2
. Oil – for frying Nuggets
Preparation
1. First wel mix all the ingredients and make the dough and then make the nuggets.
2. Take a large bowl and to it, add all the ingredients, peel the boiled potatoes and grate them and mix them as well and make it dough like.
3. Preheat the oil in a cauldron.
4. Take a spoon full dough keep it on your palm and shape them round. Nuggets are very small. make it a little flat and repeat the process for the rest of the dough.
5. After the oil is hot enough, add 10-12 nuggets in hot oil.
6. When the nuggets become little brown from the bottom, flip them.
7. We have to fry them from all sides until they turn light brown.
8. After the nuggets become light brown strain them out.
9. Pearl Sago – Green Gram Nuggets are ready!!!
By Bhaktin Archana