Saibhaji/ Sindhi Palak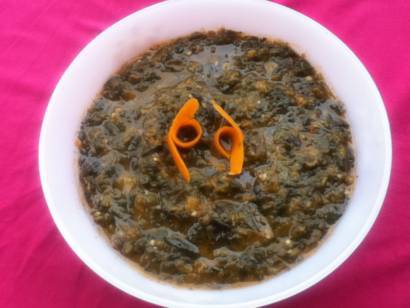 Ingredients:
• Spinach or Palak washed and chopped – 1 Bunch
• Dill(sua) washed and chopped – 1/2 Bunch
• Chuka leaves (for sourness) – few leaves 5-6. (If you wish not to add any tomatoes to get the green colour, then add more Chuka leaves for sourness. Inversely if you are unable to fetch Chuka leaves , double the tomatoes to 4)
• Fresh Coriander leaves, chopped. (A handful).
• Fenugreek leaves- a fistful, cleaned and chopped
• Tomatoes (chopped) – 2-3 medium (increase to 4 tomatoes if not adding chuka leaves.)
• Chana Daal (split Bengal gram) (Rinse well and soak for 15-30 mins ) – ¾ Cup
• Potato washed, peeled, cubed – 1 medium sized
• Arbi(kachaloo) ½ – chopped and cubed(optional).
• Purple Brinjal (Baingan)- 1 eggplant-½-1 cup chopped
• Ginger (grounded) – ½ tsp
• Asafoetida(Hing) (in place of 1 tsp garlic and 2 finely chopped and browned onion) – 1 tsp
• Green Chillies (finely chopped) – 2-3
• Cumin Seeds – 1 tsp
• Coriander Powder – ½ tsp
• Red Chilly Powder (optional) – ½-1 tsp
• Turmeric powder(delete to get more of the green colour) – ¼ tsp
• Water – 1 Cup
• Salt to taste
• Oil – 2 tbsp
Preparation
1. Wash spinach leaves along with chuka, dill, fenugreek and coriander leaves and chop them well (Soak spinach in salt water for few minutes to clean it well. Rinse well)
2. Peel and chop Arbi, and potatoes.
3. Chop brinjal .Keep these veggies submerged in a bowl of little salt water as soon as you chop them to prevent discolouration.
4. Heat oil in a pressure cooker
5. Add Vakhar (the chopped veggies in bowl) and saute till tender
6. Add all the greens- spinach, chukka, dill, coriander, fenugreek.
7. Add tomatoes, all dry masalas, salt, chana dal and mix well .(You can all add one after the other)
8. Saute for a few minutes on medium fire.
9. Now add 1 cup water and pressure cook for 5-6 whistles and then let it simmer for 5 minutes.
10. Open the lid after the steam has gone, mash it well with a masher/whisker, and adjust its consistency to a semi dry one. Can add little more hot water if its dry.
11. Heat ghee/oil in a pan for tadka(tempering) Add ginger, hing(in place of onion and garlic), green chilies, cumin seeds Once it starts to splutter pour it on the bhaji.
12. It could be served with anything , ranging from plain steamed rice, to bhuge chawal, veg biryani , Koki or Doda.
13. But saibhaji is most relished with Bhughe Chaawal (Bhugha Chaanwaran).which is nothing but rice cooked with browned onion (caramalized), spiced up with some red chilly powder and Garam Masala. 14. In place of onion, caramelize the rice with a little sugar. It will not become sweet, but just browned.
15. Serve hot to the Lord and distribute as Prasad.
Serves
5 – 6 Persons
By Bhaktin Meena/Madhulila Devi Dasi