Sauteed Brussels Sprouts with Coconut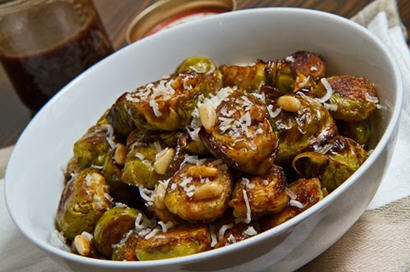 Adapted from a recipe cooked by the residents of Udupi, in the South India's Kanada district, this dish may be prepared with either ghee or coconut oil. In the fried seasoning, split urad dal is browned with spice seeds. Shop for baby Brussels sprouts, bright green and compact. If the sprouts are large, remove the tough outer leaves. If you want a creamy dish, fold in a spoonful of plain yogurt or sour cream just before serving.
Preparation time (after assembling): 30 minutes
Cooking time: 15-20 minutes
Ingredients
• Small Brussels sprouts – 1 ½ pounds (685 g)
• Ghee or coconut oil – 3 table spoons (45 ml)
• Black mustard seeds – 1 ½ teaspoon s (7 ml)
• Split urad dal, if available – 2 teaspoons (10 ml)
• Curry leaves, preferably fresh – 8
• Cayenne pepper or paprika – ¼ teaspoon (1 ml)
• Garam masala – ½ teaspoon (2 ml)
• Freshly ground nutmeg – 1/8 teaspoon (0.5 ml)
• Salt – 1 teaspoon (5 ml)
• Shredded fresh coconut – 1/3 cup (35 g)
Preparation
1. Cut off the stem of the Brussels sprouts, along with any wilted, yellow or loose outer leaves. If the sprouts are large, remove the tough, outer leaves and use only the compact center. Cut a small cross in the base of each and soak in salted water for 15 minutes.
2. Drop the sprouts into a large pot of salted boiling water and cook, uncovered, for 5 minutes. Drain well. (These two steps can be done ahead of time)
3. Heat the ghee or oil in a large frying pan over moderately high heat. When it is hot but not smoking, drop in the black mustard seeds and split urad dal and fry until the mustard seeds pop and turn gray and the urad dal turns reddish –brown. Add the curry leaves, Brussels sprouts, cayenne or paprika, garam masala and nutmeg. Sauté fro 3-4 minutes, then cover and reduce the heat to low. Cook for 4-5 minutes longer if the sprouts are young, up to 10 minutes if they are old. When they are just tender, add the salt and coconut and gently toss.
Serves
4
By Yamuna Devi Dasi