Seasoned Bitter Melon(Karela Sabji)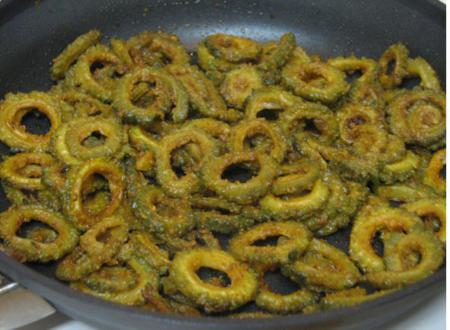 Ingredients
•6 medium sized bitter gourd
•½ Tsp each of turmeric powder, red chili powder, fennel powder, coriander
•powder, amchur (dry mango powder), anardana powder (dried pomegranate seeds)
•1 Tsp salt
•2 Tbsp ghee/oil
Preparation
1. Trim off the ends of the bitter melons. Scrape a little of their outer skin. Cut them in round slices and remove the seeds.
2. In a small mixing bowl combine the spice powders and salt.
3. Heat ghee oil in a pan and add the bitter melons. Saute them for 1-2 minutes and then follow with the spice mix. Reduce the heat to low and stirring often 9to ensure that the karela doesn't stick to the bottom of the pan), cook partially covered until the melons are soft. Remove from heat.
** Bitter melon (Karela) is very good for health reasons. It helps in cleansing the
blood, sluggish digestion and also good for diabetes.
** In this recipe you may use less red chili powder if required.
Serves
4
By Anand Lila Devi Dasi