Sesame and White Bean Hummus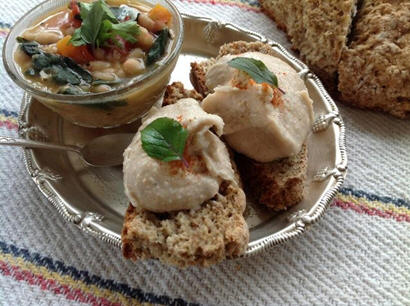 Ingredients
• 3 cups of cooked white beans
• 2 lemon, juiced
• 1 teaspoon ground cumin
• 1/2 cup sesame paste
• Salt and pepper
• 1/2 cup extra-virgin olive oil
Preparation
1. To cook the dried beans, soak them overnight in plenty of water. Drain, put them in a pot, and cover them with fresh water by 1-inch. Bring them to a boil, lower the heat, and simmer until they are tender, about 30 to 40 minutes. Or 15 minutes in the pressure cooker.
2. Make sesame paste (also called tahini). Preheat oven to 400 degrees (F) and spread out sesame seeds on a cookie sheet or flat pan and place in the oven for 4-5 minutes, do NOT let sesame seeds brown. Pour seeds into a food processor and add a little vegetable oil at a time and blend the seeds until you have a nice smooth paste.
3. When the beans are done place the beans into a food processor or blender. Add the lemon juice, cumin, sesame paste, and salt and pepper. Garnish with paprika or cayenne pepper.
By Bhaktin Christina
Source : https://www.facebook.com/KrsnasTreatsAndInspiringIdeas