Simple Mung Dal Soup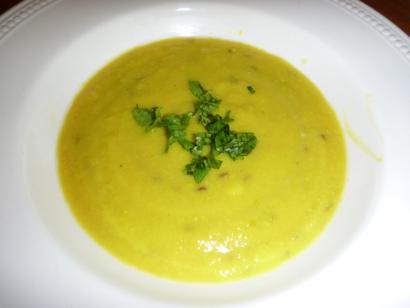 This smooth, liquid mung dal soup is seasoned with a simple chaunk. It is very easy to prepare and easy to digest, and its light consistency makes it appealing in any season. Serve it accompanied by a wheat bread or rice and a vegetable. To complete the meal, serve yogurt or green salad.
Preparation time (after assembling ingredients): 10 minutes
Cooking time: 1 ¼ hours or 25 minutes in a pressure cooker
Ingredients
• Split moong dal, without skins – 2/3 cup (145 g)
• Water (5 ½ cups/1.3 liters if pressure- cooked) – 6 ½ cups (1.5 liters)
• Turmeric – 1 teaspoon (5 ml)
• Ground coriander – 2 teaspoons (10 ml)
• Scraped, finely shredded or minced fresh ginger root – 1 ½ teaspoons (7 ml)
• Minced seeded hot green chilli *(or as desired) – 1 teaspoon (5 ml)
• Ghee or vegetable oil – 2 table spoons (30 ml)
• Cumin seeds – 1 teaspoon (5 ml)
• Coarsely chopped fresh coriander or minced fresh parsley – 2 table spoons (30 ml)
Preparation
1. Sort, wash and drain the split mung beans as explained on page 21.
2. Combine the mung beans, water, turmeric, coriander, ginger root and green chilli in a heavy 3-quart/liter nonstick saucepan. Stirring occasionally, bring to a full boil over high heat. Reduce the heat to moderately low, cover with a tight-fitting lid and boil gently for 1 hour or until the dal is soft and fully cooked. For pressure cooking, combine the ingredients in a 6-quar/liter pressure cooker, cover and cook for 25 minutes under pressure. Remove from the heat and let the pressure drop by itself.
3. Off the heat, uncover, add the salt and beat with a wire whisk or rotary beater until the dal soup is creamy smooth.
4. Heat the ghee or oil in a small saucepan over moderate to moderately high heat. When it is hot, toss in the cumin seeds. Fry until the seeds turn brown. Pour into the dal soup, immediately cover and allow the seasonings to soak into the hot dal for 1-2 minutes. Add the minced herb, stir and serve.
Serves
4 to 6
By Yamuna Devi Dasi