South indian yogurt soup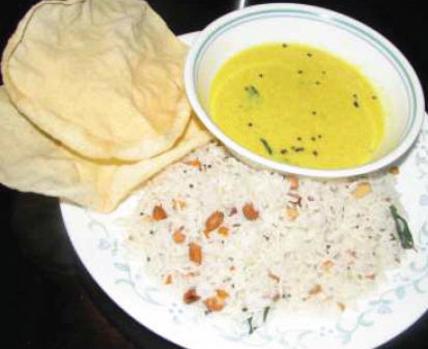 Ingredients
Yogurt………………………1 C
Water……………………….2 C
Rice…………………………1 Tbsp
Grated Coconut…………3 Tbsp
Green Chilly……………..1
Dry Red Chilly………….1
Cumin Seeds…………….1 ½ Tsp
Turmeric…………………..½ Tsp
Asafetida Powder………½ Tsp
Salt………………………….1 Tsp
Seasoning
Oil……………………….2Tsp
Mustard Seeds………………1Tsp
Fresh Curry leaves…………8-10
Preparation
1.Soak the rice in water for 15-20 minutes.
2.Whisk the curd and keep aside. Now, grind together the soaked rice,
coconut, green chilly, red chilly and cumin seeds to a smooth paste.
3.Combine the grinded paste of spices, yogurt, turmeric, asafetida and salt.
Pour this mixture into a saucepan and stirring constantly, bring it to a boil over
moderate heat. Then, reduce the heat to low and continue to cook for
15-20 minutes or till the soup becomes thick. Turn off the heat source.
4.Heat oil in a small pan; add mustard seeds, when they crackle,
add curry leaves sauté till the leaves darken. Add it to the soup.
5.Serve it with coconut rice and papad for a tasty treat!
Serves
4
By Anand Lila Devi Dasi