Spicy Cauliflower with Braised Tomato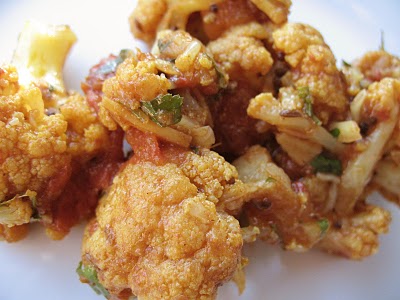 Snowy cauliflower and ripe tomatoes marry their colors and flavors over gentle heat until the cauliflower is butter-soft and the tomatoes are reduced to a seasoned glaze. The only liquid is the juice from the tomatoes, so the dish must be braised slowly. The result is a dry-textured, succulent everyday dish that can be featured on any lunch or dinner menu.
Preparation time (after assembling, ingredients): 10 minutes
Cooking time: 25 – 30 minutes
Ingredients
• Ghee or vegetable oil – 3-4 table spoons (45-60 ml)
• Fresh ginger root, Scraped and cut into thin julienne – 1-inch (2.5 cm) piece
• Green jalapeno chilies, cored, seeded and silvered – 1-2
• Black mustard seeds – ½ teaspoon (2 ml)
• Cumin seeds – 1 teaspoon (5 ml)
• Cauliflower (about 3 pounds/1.5 kg), trimmed, cored and cut into flowerets 2*1* ½ inches (5 * 2.5 * 1.5 cm) – 1 large
• Ground coriander – 1 table spoon (15 ml)
• Turmeric – ½ teaspoon (2 ml)
• Salt – 1 teaspoon (5 ml)
• Tomatoes, each peeled and cut into eights (about 1 pound/455 g) – 3 medium-sized
• Garam masala – 1 teaspoon (5 ml)
• Coarsely chopped fresh coriander or minced parsley butter (optional) – 3 table spoons (45 ml)

Preparation
1. Heat the ghee or oil in a large nonstick casserole or sauté pan over moderate to moderately high heat. When it is hot but not smoking, drop in the ginger, chilies, mustard and cumin seeds. Fry until the mustard seeds pop and turn gray and the cumin seeds turn brown. Stir in the cauliflower, ground coriander, turmeric and salt. Stir-fry until the flowerettes are slightly browned, then stir in the tomatoes. Cover and reduce the heat to low. Cook for 15 -20 minutes, shaking the pan occasionally to keep the vegetables from sticking, or until the cauliflower stalks are just tender.
2. Uncover, raise the heat and stir-fry to evaporate all the liquid. Just before serving, sprinkle with the garam masala, fresh herb, and add a knob of butter, if desired

Serves
4or 5

By Yamuna Devi Dasi