Spinach Pakora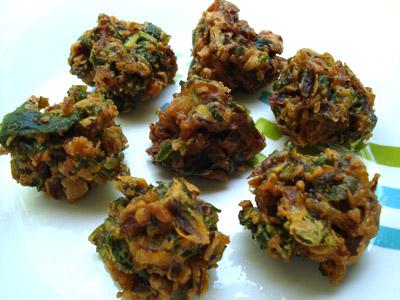 Ingredients
• Besan flour – ¾ cup
• Rice flour – 2 tbsp
• Spinach – ¼ bunch
• Hing – 2 to 3 pinches
• Chili Powder – ½ to 1 tsp
• Salt – to taste
• Water – 1 or 2 tsp
• Oil – to deep fry
Preparation
1. Chop Spinach and keep aside.
2. Mix all the ingredients (besan flour, rice flour, spinach, hing, chili powder, and salt) except Oil in a bowl.
3. Add 1 or 2 tsp of water to just bind all the ingredients.
4. Already Spinach contains some moisture in it. Don't add more water.
5. Heat Oil in a pan for deep frying.
6. Prepare small balls like from this batter.
7. Drop these small balls gently into the hot oil.
8. Deep fry them from all the side till they are golden brown.
9. Remove and drain them on paper towels. Serve hot.
Serves
4-5 Persons
By Bhaktin Archana