Spring dosa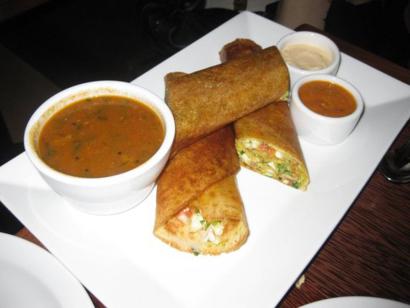 Ingredients
• Cabbage – 250 grams
• Bell pepper – 1
• Tomatoes  – 2
• Green chilies finely chopped  –  3-4
• Grated coconut  – ½ cup
• Red chili powder – 2 tbsp
• Salt – as per taste
• Oil
Preparation
1. Chop cabbage, bell pepper and make tomatoes into pulp.
2. Heat oil in a pot, add cabbage and bell pepper and stir for 5 minutes.
3. Mix tomato pulp, green chilies, grated coconut, red chili powder and salt.
4. Mix well and stir for 2 minutes and remove.
5. Make plain dosa and spread the vegetable in the center and roll the dosa and serve warm.
Serves
1 Persons
By Bhaktin Ranjana