Succulent Eggplant & Paneer Cheese in Spicy Tomato Glaze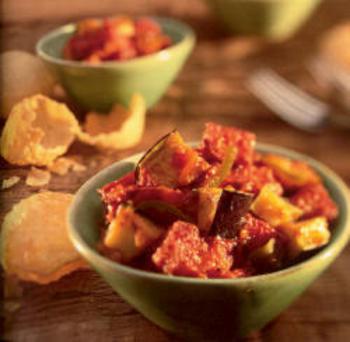 Ingredients:
• Ghee for deep-frying
• Black mustard seeds – 1½ tsp
• Minced fresh ginger – 2 tsp
• Minced fresh green chili – 1 tsp
• Yellow asafetida powder – ¼ tsp
• Tomato puree – 2 cups
• Turmeric powder – ¼ tsp
• Ground coriander – 1 tsp
• Paneer cheese from 2½ litres milk, pressed and cut into 1.5 cm cubes, (recipe follows)
• Eggplant, cut into 1.5 cm cubes – 1 large
• Garam masala – 1 tsp
• Brown sugar – 2 tsp
• Salt – 1½ tsp
Preparation:
1. Heat 1 tablespoon of ghee in a large frying pan over moderate heat. When the ghee is hot, sprinkle in the mustard seeds and fry them until they crackle. Add the minced ginger and chilies, and fry them until aromatic. Sprinkle in the yellow asafetida powder, saute briefly, and pour in the tomato puree. Stir in the turmeric powder and ground coriander.
2. Cook the sauce, stirring occasionally, for 10 minutes, or until a little reduced.
3. Heat ghee for deep-frying in a wok or pan over moderate heat. When fairly hot, deep-fry the cubes of Paneer cheese in batches until they are a light golden brown. Remove the fried Paneer from the ghee, and set it aside to drain.
4. Deep-fry the cubes of eggplant in batches in the hot ghee until golden brown and tender, and set them aside to drain in a colander lined with paper towels.
5. Fold the garam masala, sugar and salt, the fried Paneer cubes and eggplant into the tomato sauce. Serve hot, with fluffy rice or crusty bread.
By Kurma