Succulent Mixed Vegetable Balls in Herbed Tomato Sauce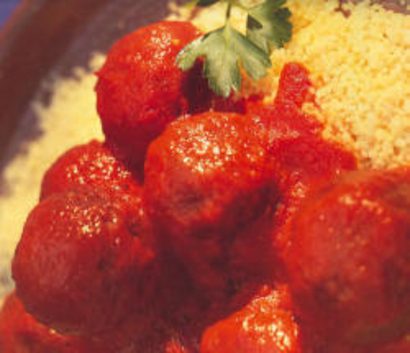 Ingredients
For Sauce
• Olive oil – 3 tbsp
• Bay leaves – 2
• Yellow asafetida powder – ½ tsp
• Tomato puree – 4 cups
• Dried basil – 1 tsp
• Salt – 2 tsp
• Freshly ground black pepper – ¼ tsp
• Sugar – 1½ tsp
For Koftas
• Grated cauliflower – 2 cups
• Grated cabbage – 2 cups
• Chickpea flour – 1½ cups
• Yellow asafetida powder – ½ tsp
• Ground cumin – 1 tsp
• Salt – 1½ tsp
• Garam masala – 1 tsp
• Cayenne – ½ tsp
• Oil for deep frying
Preparation
For The sauce:
1. Heat the oil in a saucepan over moderate heat. When hot, drop in the bay leaves and saute for 1 minute or until fragrant. Sprinkle in the yellow asafetida powder, and fry momentarily.
2. Stir in the tomato puree and basil. Raise the heat, bring to the boil, reduce the heat and simmer for 10 minutes or until a little reduced. Add in the salt, pepper and sugar, remove from the heat and keep warm.
For The koftas:
1. Combine all the kofta ingredients in a bowl until well mixed. Roll the mixture into 24 balls. Heat the oil for deep-frying in a wok or deep pan over fairly high heat to about 180° C / 350° F. Carefully drop in 6-8 balls.
2. Fry the koftas for 2 or 3 minutes or until they rise to the surface and start to colour.
3. Reduce the heat to low, and fry for another 8-10 minutes, or until they are a deep reddish brown.
4. Remove and drain on paper towels. Increase the oil temperature to its original temperature, and repeat the frying procedure for the remaining batches of koftas.
5. Serve: soak the koftas in the hot sauce 10 minutes before serving time to allow them to fully soak and become plump and succulent.
By Kurma