Sweet and Sour Vegetables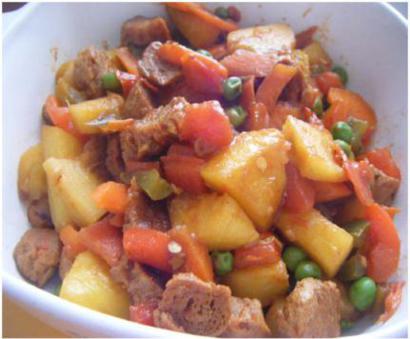 Ingredients
•½ cup green pepper
•1 cup seasoned soy meat chunks (cut into small pieces)*
•½ cup red pepper
•1.5 cup pineapple
•1.5 cup chopped tomato
•1 cup carrots
•½ cup frozen peas
•Dash of salt
•2-3 tbsp oil
•2 tbsp lemon juice***
•1 cup orange or pineapple juice (if you like it sweet, add some sugar)
*Seasoned soy meat chunks (you can get this in any organic store, if not, you can use gluten)
Preparation
1.Soak the soy meat chunks in hot water for 30 minutes. Dry them and cut them into small pieces. Season the pieces in a bowel with 3 tbsp soy sauce, 1 tbsp water, and ½ tsp white pepper. Let stand for at least 15 minutes.
2.Heat the pan with oil, high to medium high heat cook carrots and peppers for 3 minutes then add soy meat chunks **and stir fry for another 5 minutes. Add tomatoes, and pineapples and cook for another 5 minutes. Add the peas, juice, and cook for 3 minutes.
3.**If you like your soy meat chunks crispy, you may deep fry them or pan fry them in a different pan and them to the vegetables when they are done.
4.***My mom always uses catch-up to make sweet and sour instead of using lemon just and tomatoes.
By Madhavi Devi Dasi