Sweet Mango Bhath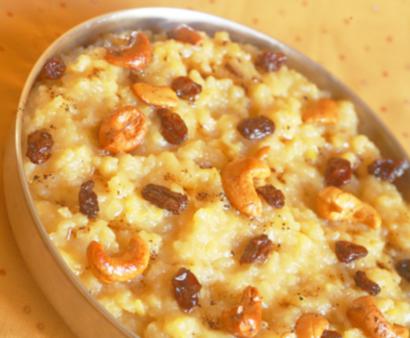 Ingredients
• Plain rice – 1 cup
• Ripe, sweet mango – 1 or 2 medium sized
• Pure ghee – 2 tbsp
• Sugar – ½ cup
• Cashew nuts – Few
• Raisins – 1 tbsp
• Cardamom powder – 1 pinch
• Saffron – a pinch dissolved in warm milk
Variations:
• Cook rice in thickened milk, mango juice and water.
• Make sugar syrup to soft ball consistency and add cooked rice.
• Blanch almonds, remove skin and cut into stripes.
• Mix fried almonds, saffron and fresh cream to the bhath. Keep under dhum.
Preparation
1. Wash and soak rice. Cook little softer than normal consistency.
2. Allow it to cool completely. Select good variety full ripe soft mangoes.
3. Peel skin, remove seed and squeeze the pulp (or cut into pieces and put in a mixer).
4. Strain the pulp to remove fibers. Heat a heavy bottom vessel, add pulp with sugar, and stir well.
5. When sugar is completely dissolved add cooked rice and mix gently till moisture dries up. Remove from fire.
6. Add saffron milk, cardamom powder and mix well.
7. Garnish with fried cashew nuts and raisins.
8. Mix rest of the melted ghee.
Serves
2 Persons
By Bhaktin Sushma