Sweet Potato Salad in Maple-Lemon Vinaigrette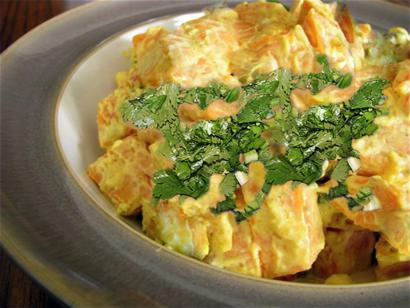 You can prepare this salad up to 8 hours before serving. Though it is light and healthy, it is also substantial and filling, perfect as a fall or winter salad. The maple-lemon dressing is barely sweet, pleasantly warmed by candied ginger.
Cooking time: about 45 minutes
Preparation and marinating time (after assembling ingredients): about 1 hour
Ingredients
• Sweet potatoes (about 2 pounds/1kg), washed but not peeled – 6 medium-sized
• Maple syrup or honey – 4 table spoons (60 ml)
• Orange or tangerine juice – 3 table spoons (45 ml)
• Lemon or lemon juice – 3 table spoons (45 ml)
• Salt – ¾ teaspoon (3.5 ml)
• Freshly ground black pepper or 1/8 teaspoon (0.5 ml) cayenne pepper – ¼ teaspoon (1 ml)
• Olive oil, or 2 table spoons (30 ml) almond oil and 6 table spoons (90 ml) sunflower oil – ½ cup (120 ml)
• Finely chopped fresh coriander or parsley – 1/3 cup (80 ml)
• Candied or stem ginger – 2 table spoons (30 ml) chopped
• Tomatoes, peeled, seeded and cut into 1/2 inch (1.5 cm) cubes – 3 medium-sized

Preparation
1. Prick the potatoes with a fork in 2 or 4 places, then wrap in aluminum foil. Bake in a preheated 400 F (205 C) oven for about 45 minutes or just until crushably soft. Cool, peel, cut into ½-inch (1.5 cm) cubes and places them in a large salad bowl. Alternatively, peel the potatoes, steam them, let them cool, and cube them.
2. Combine the sweetener, juices, salt, cayenne or black pepper, oil, fresh herbs and ginger in a jar, cover and shake until emulsified. Pour the dressing over the potatoes, toss gently, cover and set aside, refrigerated, for 1-8 hours.
3. Before serving, add the tomatoes, gently toss and serve on a bed of mixed greens.

Serves
6

By Yamuna Devi Dasi