Corn bhel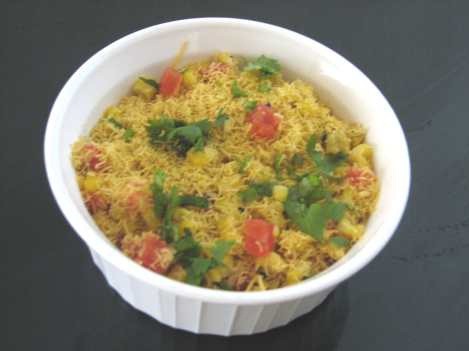 Ingredients
•Corn Kernels…………………………………………3C
•Oil……………………………………………………….3Tbsp
•Mustard Seeds……………………………………….1Tsp
•Asafetida Powder…………………………………..½Tsp
•Hot Green Chilies Chopped…………………….2
•Ginger Grated………………………………………2Tbsp
•Fresh Curry Leaves………………………………..9-10
•Salt……………………………………………………..1 ¼ Tsp
•Chopped Tomatoes……………………………….½C
•Lemon Juice………………………………………….1Tbsp
•Chopped Fresh Coriander Leaves……………2 Tbsp
•Sev (crispy Chickpea Flour Noodles)……….½ C
Preparation
1)Heat oil in a pan, add the mustard seeds. When theycrackle,sprinkle asafetida powder. Add the chilies, ginger and curry leaves in succession, sauté for a few moments and then add the corn kernels and salt. Cover and cook over low heat for 15-20 minutes or until the corn is soft but not broken.
2)When the corn is cooked, add the lemon juice and tomatoes, combine well.
3)Sprinkle with fresh coriander leaves and sev.
Serves
5-6
By Anand Lila Devi Dasi