Tamarind rice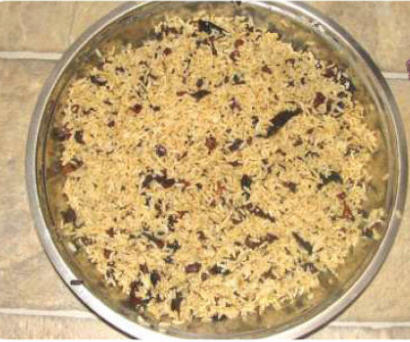 Ingredients
Rice :
•Rice………………………..1 ½ C
•Water……………………..3 C
Sauce :
•Tamarind………………….½ C
•Water……………………..2 ½ C
•Black Chickpeas………..¼ C
•Oil…………………………..1 C
•Mustard seeds…………..2 Tsp
•Urad dal………………….2 Tsp
•Chana dal………………..2 Tsp
•Cashew bits……………..2 Tsp
•Groundnuts……………..3 Tbsp
•Red Chilies……………….15 Dry
•Fresh Curry leaves…….15-20
•Asafetida powder……..½ Tsp
•Salt…………………………1 ½ Tsp
Puliogare Powder :
•Red Chilies…………….2
•Urad dal………………..1 Tsp
•Chana dal……………..2 Tsp
•Coriander seeds……..2 Tsp
•Cumin seeds…………..½ Tsp
•Fenugreek seeds……..1 Tsp
•Asafetida Powder……¼ Tsp
Preparation
1.Soak the chickpeas in hot water for 2-3 hours. Then drain it.
2.Soak the tamarind in ½ C of hot water for 15-20 minutes. Strain the tamarind pulp through a sieve. The tamarind juice collected thus should be thick in consistency.
3.Heat oil in a saucepan, add mustard seeds, when they sputter, add urad dal, chana dal, cashew bits, groundnuts, in succession, stir fry till they turn golden brown in color. Add red chilies & curry leaves. Sauté till aromatic.
4.Pour the tamarind juice slowly over the fried spices. Add asafetida powder and soaked chickpeas to it.
5.Bring the mixture over boil, then simmer, cover partially, and cook till it becomes like a thick paste. This takes almost 1 ½ hours, or even more. Just keep stirring often to avoid it sticking to the bottom of the saucepan.
6.Meanwhile, when the tamarind sauce is cooking, combine rice and water in another saucepan, bring it to a boil, then immediately reduce the heat to low, cover with a tight fitting lid, without stirring, cook it over low flame till rice is tender. Remove from heat.
7.After 10 min, cool the rice in a plate.
8.Now for the puliogare powder, heat a pan, add red chilies, urad dal, chana dal, coriander seeds, cumin seeds, till golden brown. Then add fenugreek seeds, toss in the heat for 1 minute. Cool the spices, and grind it a powder while adding asafetida to it.
9.Add salt to the spicy tamarind paste above prepared. Cool it. Now, combine the tamarind paste, rice and the puliogare powder well.
Serves
4-5
By Anand Lila Devi Dasi