Tava Pulao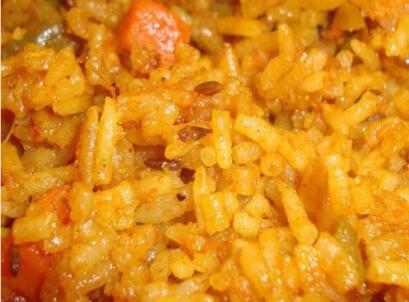 Ingredients
• 3 C cooked basmati rice
• 2 Tbsp Oil
• ½ Tsp Cumin seeds
• ½ Tbsp Ginger-chili paste
• ½ C Tomatoes diced
• ½ C Green peas, boiled and mashed
• ½ C Carrot boiled and diced
• 2 Tsp Pav bhaji masala
• 1 Tsp Salt (adjust as per taste)
• ½ C Green pepper (capsicum) diced
• 1 Tsp Turmeric powder
• 2 Tbsp Lemon juice
• 2 Tsp Red chili powder
Preparation
1. Heat oil in a tava or griddle on a medium flame, Add cumin seeds and sauté till become browned. Add ginger-chili paste and tomatoes and sauté till tomatoes become pulpy.
2. Add green peas, carrot and green pepper. Mix and cook for two minutes.
3. Add salt, lemon juice, turmeric powder, red chili powder and pav bhaji masala and mix well. Finally add the rice and mix well. Cook on high heat for three minutes. Offer it to Krishna and serve hot.
By Varun Shukla