Toasted Coconut Rice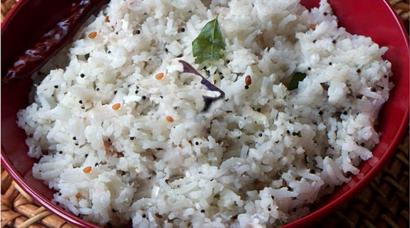 If you have a piece of fresh coconut in your refrigerator, try this recipe. It is quick, easy and delightful. The rice is cooked with whole sweet spices, and golden-fried coconut strips are folded in along with the chaunk (spices cooked in ghee or coconut oil), which adds to the flavor. Finally, the dish is garnished with more coconut strips. This is a most attractive rice dish, with a slightly crunchy texture and faintly sweet, toasty flavor. It can be served on any menu in any season.
Preparation time (after assembling ingredients): 5 minutes
Cooking time: 25-30 minutes
Ingredients
• Basmati or other long-grain white rice – 1 cup (95 g)
• Water – 1 2/3-3 cups (400-480 ml)
• Salt – ¾ teaspoon (3.5 ml)
• Cinnamon stick – 1 ½ -inch (4 cm) piece
• Whole cloves – 6
• Ghee or coconut oil – 3 table spoons (45 ml)
• Fresh coconut peeled and cut into slices 1/8 inch (3 mm) thick and ½ inch (1.5 cm) long – ¼
• Cumin seeds – 1 teaspoon (5 ml)
• Black mustard seeds – ½ teaspoon (2 ml)
Preparation
1. If basmati rice is used, clean, wash, soak and drain as explained on page 4.
2. Bring the water to a boil in a heavy 1 ½ -quart/liter nonstick saucepan over high heat. Stir in the rice, salt, cinnamon stick and cloves. When the boiling resumes, reduce the heat to very low, cover with a tight-fitting lid and gently simmer without stirring for 20-25 minutes or until the rice is tender and fluffy and the water is absorbed.
3. Remove from the heat and let the rice sit, covered for 5 minutes to allow the fragile grains to firm up. In the meantime, heat the ghee or oil in a small frying pan over moderate heat. Stir-fry the coconut strips until golden brown. Remove with a slotted spoon. Toss in the cumin seeds and black mustard seeds and fry until the mustard seeds turn gray and sputter and pop. Pour this seasoning into the rice, add two-thirds of the fried coconut, gently mix and remove the whole cloves and cinnamon stick.
4. Spoon the rice onto a serving platter and garnish with the remaining fried coconut.
Serves
4 or 5
By Yamuna Devi Dasi