Tofu and Veggie Stew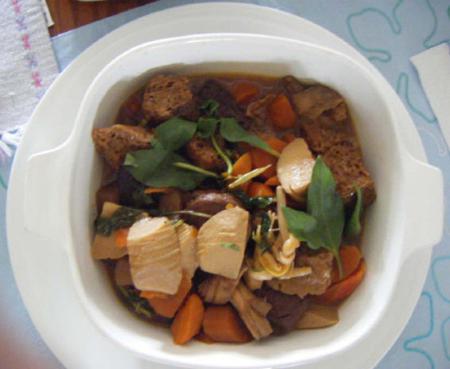 Ingredients
•1 block of frozen tofu (freeze a block of tofu you bought from the store), cut into cubes
•3 cups of dried soy meat (all kinds whichever you can find)
•3 carrot sticks, cut into cubes
•1/3 daikon (Chinese turnip), cut into cubes
•2/3 cup soy sauce
•4 cups water
•8 Aniseed (whole)
•1 cup cubed bamboo shoots (fresh or frozen), optional
•1 tbsp sesame oil
Preparation
1. In a pot of boiling water, cook dried soy meat for 2 minutes or so until the pieces are soft.
2. Meanwhile, cut all veggies into cubes. In a big pot, add all ingredients and stew (covered) for at least one and half hours.
3. Before serving, add a few Thai basil leaves.
4. Bamboo shoots are summer vegetables. You may be able to find them in the Asian market in summer. Stores sometimes carry frozen ones. If you cannot find them, omit this ingredient. Bamboo shoots are great for making soup; they make soup sweeter and tastier.
Serves
6
By Madhavi Devi Dasi