Tomato Fried Rice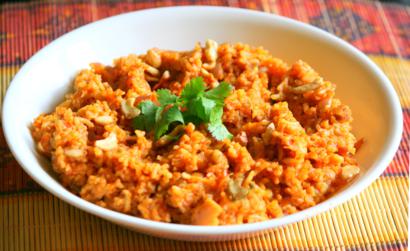 Ingredients:
• Basmati rice – 1 cup
• Tomatoes – 2 large
• Coconut extract – 1 cup
• Water – 1 cup
• Cashew nuts – 10 or 12
• Diced carrots – ¼ cup
• Shelled peas – ¼ cup
• Oil – 2 ½ tbsp
• Cardamom, cinnamon and cloves – few
• Salt – as required
Grind Together:
• Green chilies – 3
• Red chilies – 4
• Ginger – ½ inch piece
Preparation
1. Wash and soak rice for 10 minutes. Drain water.
2. Add 1 cup of coconut extract and 1 cup of water.
3. Pressure cook in separate container for 15 minutes.
4. Remove from fire and allow it to cool by spreading over a broad plate. Separate the grains.
5. Dice tomatoes. Cook carrots and peas separately.
6. Heat oil in a frying pan and add masala spices.
7. When it becomes pulpy, add ground paste, cooked carrots and peas.
8. Stir in medium flame for few minutes.
9. Add cooked rice with enough powdered salt and fry in a high flame for few minutes till rice becomes hot.
10. Serve hot garnished with cut coriander leaves.
Serves
2 Persons
By Bhaktin Archana