Urd Dahl Dosa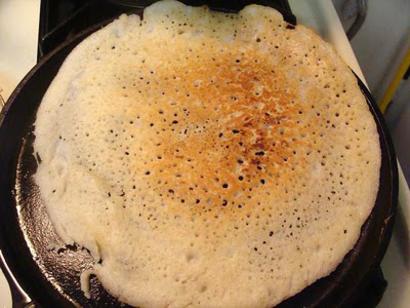 Ingredients
• Urad dahl, skinned, split or whole – 1 cup
• Short grained rice – 2 cups
• Water
• Salt – 1 tbsp
• Sugar – 1 tbsp
• Chopped coriander leaves (or 1 t coriander powder if unavailable) – 2 tbsp
• Chilies, minced (or 1/2 t cayenne or ground black pepper) – 1-2
• Ghee for frying
• You will need a blender or food processor.
Preparation
1. Sort, wash and soak the urd and rice together for at least 8 hrs.
2. Drain, but save the water and use it little by little to blend the combined and soaked grains in a blender until you have a smooth paste that can be a little runny.
3. Stir in the salt and sugar and let this sit in a warm place overnight.
4. Stir in the coriander and chili.
5. Heat a skillet (10″) with a little ghee until smoking hot. Pour about 1/2 cup of batter onto the skillet and smooth it out in circular and zig zag motions with the bottom of the measuring cup to make a pancakes as thin as possible. If there are big holes, fill in with a little batter.
6. Cook on med-high heat until the edges are browned and crisp and the top of the dosa is almost dry.
7. Flip over and cook the other side about a minute.
By Bhaktin Priya