Wheat Bran Cutlet (Chokker cutlet)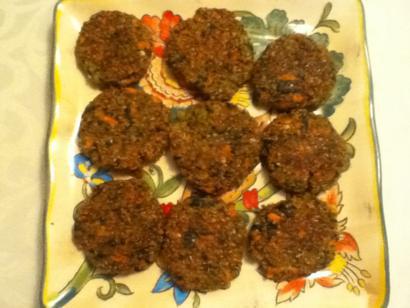 Ingredients
• Wheat bran – 1 cup
• Cauliflower or Brocolli- ½ cup grated
• Spinach- ½ cup finely chopped
• Carrot- 1, grated
• Potato-1, boiled, peeled and grated-3/4 cup (I used chick pea flour ¾ cup in place of potato)
• Green Chilli- 1, chopped
• Green Coriander- chopped, 2 tbsp
• Salt- ¼ tsp.
• Black pepper powder-1/2 tsp
• Chat masala- ½ tsp
• Lemon juice- 1 tsp
• Elaichi (green cardamom) powder- ½ tsp
• Curd- 2 tbsp
• Oil- 2-3 tsp to brush the pan
Preparation
1. Mix together wheat bran with all dry ingredients.
2. Add enough curd to bind the mixture into a round cutlet shape.
3. Heat a nonstick frying pan, brush with a little oil and brown the cutlet on both sides on medium heat.
4. Flatten the cutlet a bit while shallow frying, to cook the center of the cutlet.
5. Remove when slightly browned on both the sides.
6. Serve to the Lord and distribute the Prasad.
Serves 
10 Persons
Wheat bran is a dietary fiber beneficial to the body by aiding in digestion, as well as lowering the risk for diabetes and aiding in weight loss
By Bhaktin Meena/Madhulila