White Radish with Chopped Radish Greens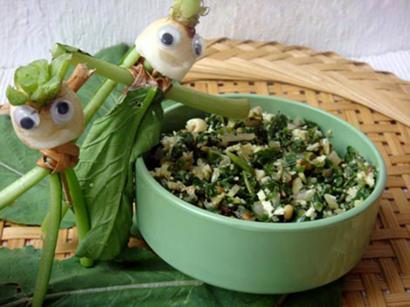 This typically North Indian radish dish is predominantly seasoned with whole cumin, coriander and ajwain seeds, with a splash of lime juice and sweetener. In Kashmir the likely oil would be mustard; in the Punjabi, peanut oil. The distinct appeal of the dish depends on the type of radish you use, as the varieties grown range enormously in pungency, color and size. Radishes, like beets, are at their best pulled fresh from the garden, so you will have to white icicles. If the commercially grown radishes where you shop come without the greens, fill in with a bunch of Swiss chard, spinach, mustard greens or kale. If you can find good mooli radish from Indian or Chinese greengrocers, by all means use it, the flavor is exceptional.
Preparation time (after assembling ingredients): 15 minutes
Cooking time: 15-20 minutes
Ingredients
• White icicle radishes (about ½ pound/230 g), 8-20 medium-sized round red radishes or 4 medium-sized mooli or daikon radishes – 6 medium-sized
• Radish greens, Swiss chard, spinach, or kale, Washed, trimmed and chopped – ½ pound (230 g)
• Cumin seeds – 1 teaspoon (5 ml)
• Coriander seeds – ½ table spoon (7 ml)
• Ajwain seeds – ¼ teaspoon (1 ml)
• Ghee, mustard or peanut oil – 3 table spoons (45 ml)
• Turmeric – ½ teaspoon (2 ml)
• Cayenne pepper or paprika – ¼ teaspoon (1 ml)
• Maple or brown sugar – 2 teaspoons (10 ml)
• Salt – 1 teaspoon (5 ml)
• Fresh lime or lemon juice – 2 teaspoons (10 ml)
Preparation
1. Wash and trim the radishes, paring the long variety if necessary. Cut white radishes into 1/4 –inch (6 mm) dice; if using the round variety, thinly slice. Place the radishes in a steaming basket, lay the greens on top and steam for up to 15 minutes or until tender-crisp.
2. Combine the cumin, coriander and ajwain seeds in a small bowl. In a large heavy bottomed nonstick pan, heat the ghee or oil over high heat. When it is hot but not smoking, (unless you are using mustard oil which you let smoke for a few seconds) add the spice seeds and fry until they darken a few shades.
3. Seconds later, add the radishes and greens. Stir in the turmeric, cayenne or paprika and sweetener. Reduce the heat to moderate and fry for 4-5 minutes. Remove from the heat, add the salt and lime or lemon juice and toss to mix well.
Serves
4
By Yamuna Devi Dasi