Whole Cabbage Stuffed with Carrot Coleslaw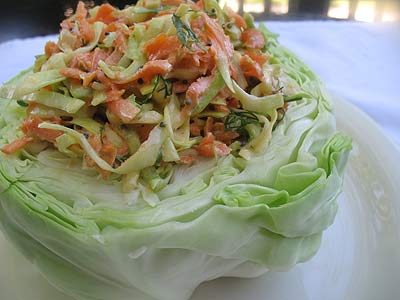 A large, crinkly-leafed Savoy cabbage makes an ideal cabbage bowl, though red or green cabbage can be used as well. In this variation, the cut-away inner portion is trimmed, shredded and jazzed up with herbs, spices, carrots and a creamy dressing. The outer shell serves as a salad bowl. For a summer backyard salad banquet, select several types of cabbage vary the fillings and use small cabbages for dressings they are sure crowd pleasers.
Preparation time (after assembling ingredients): 30 minutes
Ingredients
• Savoy or stuffing-type cabbage – 1 oversized
• Carrots, scraped and shredded – 4 medium-sized
• Hot green chilies, seeded and minced – 1-2
• Scraped fresh ginger root, minced – ½ table spoon (7 ml)
• Fresh coriander or dill salt and freshly ground pepper – 2 table spoons (30 ml) chopped
• Buttermilk or yogurt – ½ cup (120 ml)
• Heavy cream – ½ cup (120 ml)
• Fresh lime juice – 3 table spoons (45 ml)
• Ghee or vegetable oil – 2 table spoons (30 ml)
• Black mustard seeds – 1 teaspoon (5 ml)

Preparation
1. Trim off all large bruised cabbage leaves and take a slice off the base so the cabbage stands flat on its own. Slice off the top third of the cabbage and cut around the edge, leaving a 1-inch (2.5 cm) border. Hollow out the center, and shred enough of it to equal the amount of carrots.
2. Combine the carrots, cabbage, chilies, gingers, fresh herbs, salt and pepper in a large bowl and toss to mix. In another bowl, combine the buttermilk or yogurt and the cream. Stirring constantly, slowly pour in the lime juice. Whisk until creamy, then pour over the carrot slaw.
3. Place the ghee or oil in a small pan over moderate heat. When it is hot but not smoking, add the black mustard seeds and fry until they sputter and turn gray. Pour the seasoning into the salad and toss well. Spoon the salad into the cabbage shell and serve at room temperature or chill.

Serves
6 to 8

By Yamuna Devi Dasi