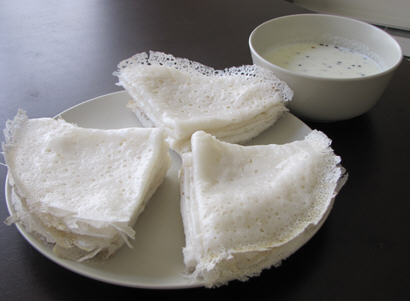 Ingredients
. Soaked Rice – 1 Cup
. Grated Coconut – 2-3 tbsp
. Refined Oil – 2-3 tbsp
. Salt – 1/2 tsp
Preparation
1. Firstly Prepare a very fine paste by grinding coconut and rice.
2. Strain rice to remove extra water, Place the rice in mixture jar also add coconut ground both the ingredientd together.
3. Add little amount of water now grind it.
4. Take out the smooth batter in a bowl, Now make this batter thinner as neer dosa is prepared with very thin batter.
5. Add salt in the batter and mix well, It should have pouring consistency.
6. We have used 1.5 cups of water till now.
7. Preheat a tawa we have used nonstick tawa for making dosa.
8. Pour some oil on the tawa and spread it evenly.
9. Now spread dosa over it, Take 1 big spoon at once keep the flame medium-high for roasting dosa now pour oil all around the dosa and cook until it turns darker on surface.
10. When dosa starts separating from corners then give it a fold.
11. There is no need to roast dosa from other side as its very thin.
12. Now place the dosa on the plate. Likewise prepare another dosas also.
13. Ready to Serve!!!
By Bhaktin Archana