Yeast free Cinnamon Raisin Bread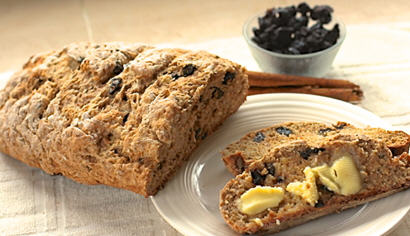 Description
No need to buy expensive store bought bread anymore! This recipe is so easy and so good!
Ingredients
• 2 cups unsifted whole-wheat flour
• 2 cups unsifted all-purpose flour, plus more for dusting
• 1/2 teaspoon baking soda
• 1/2 teaspoon baking powder
• 1 teaspoon salt
• 2 cups light buttermilk or plain curd/yogurt
• 2 teaspoons cinnamon
• 1/2 cup raisins
• 1/2 cup sugar
Method
1. First put all the dry ingredients into one large mixing bowl.
2. Then pour in the buttermilk or yogurt.
3. Mix with your hand just until all the ingredients are mixed together. The dough will be sticky. Now wash your hands and dry them very well.
4. Now sprinkle some flour on the dough and your hands before handling again. Roll into a ball.
5. Flour your baking pan.
6. Place the dough into the pan and shape it as you like.
7. Get a sharp knife and slice lines into the top of the dough and then place in the oven.
8. Bake 20 minutes on 450°F/230C. Drop the heat to 400°F/200C and bake an additional 30 to 35 minutes. Bread should appear finished and sound hollow when you knock on it.
9. This is what it should look like when it is ready and just taken from the oven.
10. Take out of the baking dish…
11. …and slice.
12. Ready to serve to Kṛṣṇa with love and devotion!
By Bhaktin Christina