Cardamom Shortbread Cookies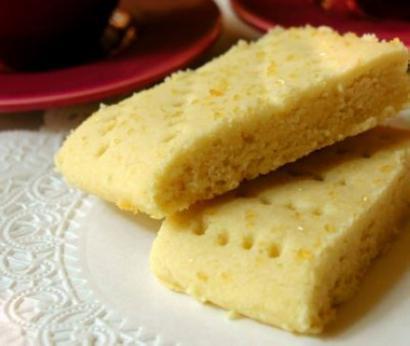 Ingredients:
• Unsalted butter, at room temperature – 1 cup
• Crushed cardamom seeds -1 tsp or Fresh ginger paste – 2 tsp
• Superfine sugar or jaggery – ½ cup (110g)
• Unbleached white flour – 2½ cups (300g)
• Fine semolina (pasta flour) – ½ cup (85g)
• Salt – ¼ tsp
• Baking powder – ¼ tsp
Preparation:
1. Preheat the oven to 250 F (120 C).
2. Cream the butter and cardamom or ginger in a mixing bowl, then gradually add the sugar and beat until light and fluffy. (If you are using a dried fruit puree, work it into the sugar-butter mixture).
3. Combine the flour, semolina, salt and baking powder on a sheet of waxed paper and mix well. (If you are using nuts, add them to the dry ingredients).
4. Add the dry mixture to the butter and work with your hands until thoroughly blended into a dough. Alternatively, place all of the ingredients in an electric mixer, and with a dough hook, mix on low speed until thoroughly blended.
5. Press into an 8×10–inch (20x25cm) rectangle on an ungreased baking tray. Score the surface to make 24 cookies, and prick the surface with fork tines at 1-inch (2.5 cm) intervals.
6. Bake for about 1 hour or until pale gold but not brown. Cool for 10 minutes in the pan. Carefully cut again over the scored markings. (If you want to sprinkle the surface with sugar, do it as soon as it comes out of the oven).
Yeild
2 dozen small bars
By Kurma