Chinese Fried Rice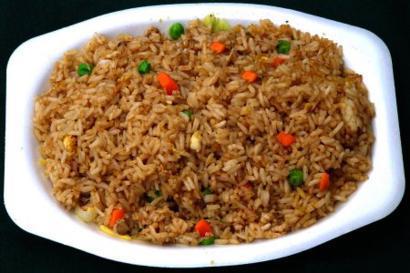 Ingredients
• Basmati rice – 1 cup
• Carrots -1 or 2
• beans – 10 or 12
• Cauliflower – ½ small
• Cabbage -150 gms
• Capsicum -1 or 2
• Peas – ½ cup (Optional)
• Ajinomoto(Mono sodium glutamate) – ½ tsp.
• White pepper powder – ½ tsp
• Salt – as required
• Caramelized sugar syrup – 1 tbsp
• Soya Sauce -2 to 3 tsp
• Oil – 3 to 4 tbsp
Vinegar Chillies:
• Long variety green chilies – 4 (cut into thin round pieces)
• Plain vinegar – ½ cup
• Salt – 1 tsp.
• Soya Sauce – 1 tbsp
• Mix everything two to three hours before serving.
Preparation
1. Boil rice in 12 cups of water to which little salt and a tsp.of oil is added.
2. When it is ¾ tender drain water completely.
3. Allow the rice to cool completely by spreading on a broad plate. Separate the grains.
4. Cut the vegetables into even sized very small pieces.
5. Heat oil in a broad frying pan and fry carrots, capsicum and cabbage in order given.
6. while frying vegetables add half of the Aji-no-moto. (If using peas, cook separately and then add)
7. Fry in a high flame for few minutes. (Till the vegetables become tender).
8. Add cooked rice, salt, pepper and caramel sugar.
9. Sprinkle soya sauce and fry on a high flame till rice is fried well.
10. Serve hot with vinegar chilies.
Note: While cooking more rice do not double the quantity of Aji-no-moto. Little more than given quantity is enough.
Serves
2 Persons
By Bhaktin Pooja